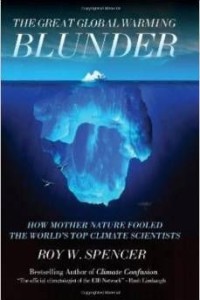 The Great Global Warming Blunder: How Mother Nature Fooled the World's Top Climate Scientists
Spencer, Roy W.
Encounter Book, New York / London
Englisch
978-1594033735
176
2010
Dr. Rainer Zitelmann
Die zentrale These des Meteorologen, der dieses Buch verfasst hat, ist rasch zusammengefasst: Die Warnungen vor dem globalen Klima-Kollaps sind wissenschaftlich nicht belegt. Dass die Erwärmung, die in den vergangenen 100 Jahren stattgefunden hat (um 0,7 Grad), durch Treibhausgase verursacht worden sei, lasse sich wissenschaftlich nicht belegen. Nur, weil in diesem Zeitraum auch die CO2-Emission angestiegen sei, heiße dies noch nicht, dass diese kausal für die Erwärmung gewesen sei.
Die Forscher, die teilweise apokalyptische Visionen entwickelten, hätten sich gar nicht mit der Möglichkeit befasst, dass der Temperaturanstieg auch andere Gründe haben könne. Der Autor bestreitet nicht die Tatsache des Klimawandels, er bestreitet jedoch, dass dieser von Menschen verursacht worden sei. Es habe in der Geschichte immer wieder Perioden von Erwärmung und Abkühlung gegeben – allein diese Tatsache solle zu denken geben. Was sei beispielsweise mit der Wärmeperiode (ca. 1000 n.Chr.) gewesen, die bestimmt nicht durch CO2-Emissionen verursacht worden sei? Auch die Kleine Eiszeit, die 700 Jahre später stattfand, habe natürliche Ursachen gehabt. Die meisten Temperaturänderungen seit 1979 seien durch El Niño, La Niña und zwei große Vulkanausbrüche (1982 in Mexiko und 1991 in den Philippinen) verursacht worden.
Vor allem: "Das Klima" selbst verändere sich immer wieder, auch ohne dass es dafür externer Gründe (also Vulkanausbrüche, C02-Emissionen) bedürfe. "All this temperature variability on a wide range of time scales reveals that just about the only thing constant in climate is change. This makes the identification of an 'average' climate state very difficult, and 'normal' climate nearly an oxymoron." (S. 4 f.) Die Wissenschaft sei noch nicht weit genug, die tatsächlichen Gründe des Temperaturanstiegs mit Sicherheit zu identifizieren. Eine mögliche Erklärung sei jedoch das PDO-Phänomen, also "The Pacific Decadal Oscillation". (S. 14) Auch die in der Öffentlichkeit stets angeführte Erwärmung in der Arktis, die als unschlagbares Argument für den durch Treibhausgase verursachten Klimawandel angeführt werde, sei als Beleg in Wahrheit nicht geeignet, denn die Temperatur dort sei heute nicht höher, als sie es schon einmal in den späten 1930er und Anfang der 1940er Jahre gewesen sei – übrigens war die PDO damals ebenfalls in der positiven, warmen Phase.
Der Autor kritisiert die 1988 gegründete IPCC, das ist das United Nations' Intergovernmental Panel on Climate Change. "Now, one would think that the IPCC reached its conclusion that mankind very likely caused the recent warming after ruling out natural climate variability, like that associated with the PDO, as a cause. But the truth is that they never seriously investigated it. The IPCC has taken for granted that there are no natural variations in global average temperatures once one gets beyond a time scale of ten years or so." (S. 16) "The possibility that these natural modes of climate variability might explain a good part of climate variability in the last 100 years has been largely ignored." (S. 109)
Eine andere Ursache für Klimaveränderungen, die nicht durch den Menschen verursacht seien, seien Änderungen in der Wolkenbildung. "One of the primary mechanisms the Earth has for cooling itself is the production of clouds, which reflects some of the solar energy that reaches the Earth back to outer space. Because the average effect of clouds on the Earths' climate is to cool it, any natural change in global average cloudiness can also be expected to cause global warming or global cooling." (S. 21)
Oftmals werde einfach als selbstverständlich vorausgesetzt, was Ursache und was Wirkung von bestimmten zusammenhängenden Ereignissen sei, ohne dass sich dies belegen lasse. Ein Beispiel dafür sei der unstrittige Zusammenhang zwischen der Wolkendichte einerseits und dem Temperaturanstieg andererseits. "How did the researchers know that the warmer temperatures caused a decrease in cloud cover, rather than the decrease in cloud cover causing the warmer temperatures?… If researchers are not careful about distinguishing cause and effect when observing cloud and temperature variations, they can be fooled into believing that the climate system is more sensitive than it really is." (S. 73)
Der Autor berichtet von einer wissenschaftlichen Studie, die er und seine Kollegen in dem international führenden Fachorgan für Klimaforschung veröffentlichten, dem "Journal of Climate". Das Ergebnis dieser Studie, die auf der Auswertung von Satellitenaufnahmen beruhte, war, dass vorherrschende Klimamodelle "are too sensitive, which is why they predict so much global warming for the future. In contrast, the satellite evidence indicates that the climate system is quite insensitive, which means that it doesn't really care how big your carbon footprint is. Rather than 1,5 to 6 deg. C (or more) of warming as predicted by the IPCC, a careful examination of the satellite data suggests that manmade warming due to a doubling of atmospheric carbon dioxide could be less than 1 deg. C – possibly much less." (S. 102)
Die Universität, an der er tätig ist, veröffentlichte eine Pressemitteilung über diese für die Klimaforschung sehr weitreichenden Befunde der Studie, die jedoch nirgendwo veröffentlicht wurde. Kritisch setzt sich der Autor mit der Art und Weise auseinander, wie Verfechter der Theorie des durch Menschen bzw. durch CO2-Emissionen bedingten Klimawandels mit anderen Wissenschaftlern umgehen, die diese These nicht teilen. Auf S. 32 ff. nennt er 15 Propagandatechniken, die von den Anhängern dieser Theorie verfolgt würden. Andersdenkende würden als "Klimaleugner" dämonisiert und ihnen würden pauschal unlautere Motive unterstellt, um sie zu diskreditieren. Dabei scheue man auch nicht davor zurück, Daten und wissenschaftliche Befunde, die nicht ins eigene Konzept passten, zu verschweigen oder zu unterdrücken. So berichtet er von einer E-Mail-Korrespondenz zwischen führenden IPCC-Klimaforschern aus dem Jahre 2009, aus der hervorgehe, dass man geplant habe, Temperaturdaten zu vernichten oder zu verbergen, die die eigene These nicht untermauerten. (S. 35) Eine freie wissenschaftliche Debatte werde gezielt verhindert.
In diesem Punkt muss man dem Autor auf jeden Fall beipflichten – gleichgültig, wie man sonst inhaltlich zu seinen Thesen steht. Zur Wissenschaft gehört es, dass frei über verschiedene, kontroverse Forschungsergebnisse diskutiert werden kann, um der Wahrheit näher zu kommen. Der Autor beklagt zu Recht die hochgradige Politisierung der Klimaforschung, die dem Erkenntnisgewinn abträglich ist. Auch kritisiert er zu Recht, dass in den Medien gerne apokalyptische Szenarien wiedergegeben würden, während kaum über gegenläufige Forschungsergebnisse berichtet werde. Selbst die absurdesten und abwegigsten Thesen von einer baldigen Klimakatastrophe fänden sofort Verbreitung in den Medien, seriöse wissenschaftliche Forschungsergebnisse, die dem entgegenstünden, würden jedoch in der Berichterstattung weitgehend ignoriert. (S. 55)
Der Autor glaubt nicht an irgendwelche Verschwörungstheorien, benennt aber die psychologischen und wirtschaftlichen Gründe dafür, dass die Theorie vom durch Menschen verursachten Klimawandel fast mit religiöser Inbrunst propagiert werde. Manchmal sei es nur das Bestreben der Wissenschaftler, sich selbst und ihre Arbeit als besonders wichtig zu empfinden: "For instance, what scientist wouldn't want to work in a field where he could help Save the Earth?" (S. 67)
Der Autor hat ein sehr lesenswertes Buch geschrieben, das ich jedem zur Lektüre empfehle. Natürlich ist es für jemanden, der selbst kein Fachwissenschaftler bzw. Meteorologe ist, nicht einfach, die Argumente in der Klimadebatte zu bewerten. Unstrittig scheint mir jedoch, dass aus politischen Gründen von einer wirklich freien, unpolitischen Forschung auf diesem Gebiet nicht die Rede sein kann. Vielleicht, so der Autor, erweise sich der fast religiöse Glaube an die finale Klima-Apokalypse später einmal als eine der größten Massenhysterien in der Menschheitsgeschichte.
Problematisch daran sei, dass dies zu weitreichenden Regulierungen führe, die wiederum die Armut in der Welt verstärkten. Denn wenn man an die Theorie von dem durch CO2-Emissionen ausgelösten Klimawandel glaube, dann sei die Konsequenz, auf Formen der Energiegewinnung zu setzen, die unwirtschaftlicher seien. Es komme zu einer Fehlallokation von Ressourcen und zu einer Verteuerung praktisch sämtlicher Produkte. R.Z.
Social Share